This article is about the dish. For other uses, see Rocket (disambiguation).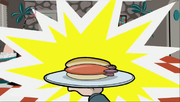 The Rocket Dog is a menu item created by Professor Q for Joe's and is based on a hot-dog.
In the episode No More Joe's!, Vinnie decided to create "a signature dish…so taste-tacular-rific that nobody can resist" to bring customers back to Joe's from Ducky's, and started by going to meet Prof Q, who explains to them about finding the right combination of tastes, then he gets to work experimenting and cooking and Gabby, Vinnie and Rocket try them all and in the end, Professor Q perfected the dish and the Rocket Dog was created.